A few words about Moni Babu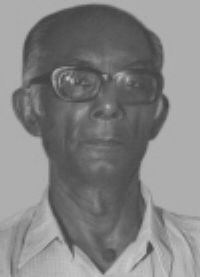 Moni Babu's musical journey started in 1930s under the tutelage of Shri Bipin Chatterjee in Barisal, Bangladesh. After shifting to Kolkata in probably 1940, he came in contact with Pandit Keshav Ganesh Dhekne, under whose training he participitated in the Bengal Music Conference in 1941 and topped  the Alaap and Dhrupad Sections. Subsequently, on advice from the great Aftab-e-Mousiki Ustad Faiyaz Khan, he moved to Agra and, for several years, received training under Ustad Tassadaq Hussain Khan of Agra(Rangeela) Gharana.

Subsequently, compulsions of job and family forced him to largely stay away from active musical circles, but his passion and devotion never lessened. In 1973, he suddenly resigned from his job and immersed himself completely in music. During this period, till a few months before his death in June 1982, he practiced almost continuously, sometimes for 12-14 hours in a day. 

By 1979-80, unfortunately, his habit of smoking had led to lung cancer and his voice had started losing its quality. The songs featured here were all recorded at home on a cheap  tape -recorder  a few months before his death in 1982. The recordings were done purely as a personal memento and the possibility of publishing it for public entertainment was not even imagined at that time. Besides, a spate of unexpected family problems at this time  coupled with his intense self-respect  ensured that he could not afford even the minimum basic accompaniments. This is evident from the out of tune tanpura strings and tabla in some  the songs.

The quality of his voice at his peak can now only be guessed from the fact that by the time the first song ( Megh Malhar alaap ) was recorded on 25th March 1981, he was already in the last stage of  his life. By the time the Bairagi Bhairon was recorded, his voice had acquired a nasal tinge and had lost much of its qualities, including  its manoeuverability. Holding his breath had become difficult ,particularly in drut khayals, leading to lapses in taal sometimes .The duration of the alaaps had also understandably shortened .  While digitising the songs from the original cassettes, care was taken to retain the originality to the extent possible. No effort was made to edit out lapses, if any, or to enhance the quality in any way. Though alaaps are the mainstay of the collection featured here, some khayals also have been included for variety , in spite of some glaring lapses in taal .

It is heartening that some archives have shown an interest in preserving these songs  as well as some others which have not been featured here for various reasons .The publishers of this website have decided to hand over all the songs as well as  Moni Babu's  legacy of manuscripts of notations and bandishes (written in Bengali ), which may be invaluable to students of Hindustani classical music,to an organisation which shows a genuine interest in preserving and using the treasure .A final decision is yet to be taken and any guidance or suggestion in this matter will be gratefully accepted .

Moni Babu  had a very  dramatic life, particularly during his youth, that at times reads like a movie -script. A more detailed  account given in A Musical Journey  provides glimpses of the world of music in those days and may be of interest to many, particularly to  aspiring musicians.